Nissan Qashqai, 1.5 l., suv / off-road
Similar ads
Ad is not active!
MORE SIMILAR ADS
Nissan Qashqai
Date of manufacture
2012-01
Engine
1461 cm³, 110 HP (81kW)
Driven wheels
Front wheel drive (FWD)
Climate control
Climate control
Steering wheel
Left hand drive (LHD)
Akcija!

7% palūkanos visiems
Suma nuo 1 000 iki 25 000 €
Nereikia įkeisti automobilio
Nereikia pradinio įnašo ir KASKO
Atsakymas per 1 minutę
12

mėn

24

mėn

36

mėn

48

mėn

60

mėn

72

mėn

84

mėn
Pavyzdžiui, skolinantis 5000 Eur, kai sudaroma 72 mėn. sutartis, fiksuota metinė palūkanų norma - 7%, mėnesinis administravimo mokestis – 7 Eur, sutarties sudarymo mokestis – 7% (finansuojamas sutarties sudarymo dieną ir grąžinamas lygiomis dalimis per visą sutarties galiojimo laikotarpį), mėnesio įmoka – 97,11 Eur, bendra sumokama suma – 6991,64 Eur, bendra vartojimo kredito kainos metinė norma – 12,41%.
Fuel Consumption l/100 km
Features / equipment
Audio/video equipment
CD player
MP3 player
LCD monitor
AUX input
Navigation/GPS
Original audio system
USB input
Handsfree kit
Exterior
Light alloy rims
Metallic paint
Set of winter tyres
Fog lights
Electronics
Electric mirrors
Galinio vaizdo kamera
Electric windows
Automatic headlamps
Outside temperature sensor
On-board computer
Rainfall sensor
Electric sunroof
Cruise control
Interior
Tinted windows
Multifunctional steering wheel
Vairo stiprintuvas
Velour upholstery
Panoramic roof
Boot cover
Safety
ABS
Traction control system
ESP
Hill-start assist control
Airbags
Video review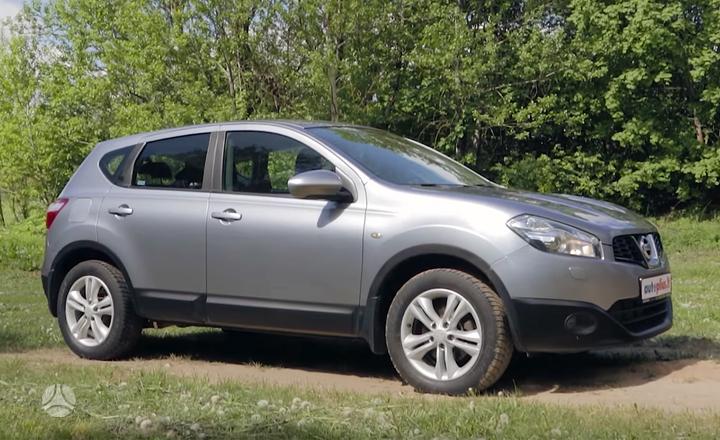 Nissan Qashqai
Watch review
Nissan Qashqai (2006 - 2013)
Nissan Qashqai yra vienas populiariausių ekonominės klasės miesto visureigių. Negana to, būtent šis automobilis sukūrė taip vadinama krosoverių segmentą. Tai - visureigio ir hečbeko mišinys, kurį vairuotojai greitai pamilo. Peržiūrėkite Nissan Qashqai apžvalgą ir sužinokite, kaip rinktis tokį automobilį.