Mercedes-Benz E270, 2.7 l., saloon / sedan
Similar ads
Ad is not active!
MORE SIMILAR ADS
Mercedes-Benz E270
Gaukite paskolos pasiūlymą »
Date of manufacture
2002-08
Engine
2700 cm³, 176 HP (130kW)
Steering wheel
Left hand drive (LHD)
Akcija!

7% palūkanos visiems
Terminas iki 84 mėnesių
Neribojamas automobilio amžius
Nereikia pradinio įnašo ir KASKO
Finansuojame virš 100% automobilio vertės
12

mėn

24

mėn

36

mėn

48

mėn

60

mėn

72

mėn

84

mėn
Pavyzdžiui, skolinantis 5000 Eur, kai sudaroma 72 mėn. sutartis, fiksuota metinė palūkanų norma - 7%, mėnesinis administravimo mokestis – 7 Eur, sutarties sudarymo mokestis – 7% (finansuojamas sutarties sudarymo dieną ir grąžinamas lygiomis dalimis per visą sutarties galiojimo laikotarpį), mėnesio įmoka – 97,11 Eur, bendra sumokama suma – 6991,64 Eur, bendra vartojimo kredito kainos metinė norma – 12,41%.
Features / equipment
Security
Central locking
Immobilizer
Alarm
Audio/video equipment
CD player
MP3 player
Navigation/GPS
Original audio system
DVD player
Exterior
Light alloy rims
Metallic paint
Set of winter tyres
Fog lights
Tow hook
Xenon lights
Headlights washers
Electronics
Electric mirrors
In-car mobile phone
Electric windows
Automatic headlamps
Outside temperature sensor
On-board computer
Electrically adjustable steering wheel
Rainfall sensor
Heated mirrors
Parking sensors
Cruise control
Interior
Multifunctional steering wheel
Vairo stiprintuvas
Electric seats
Electric seats with memory
Video review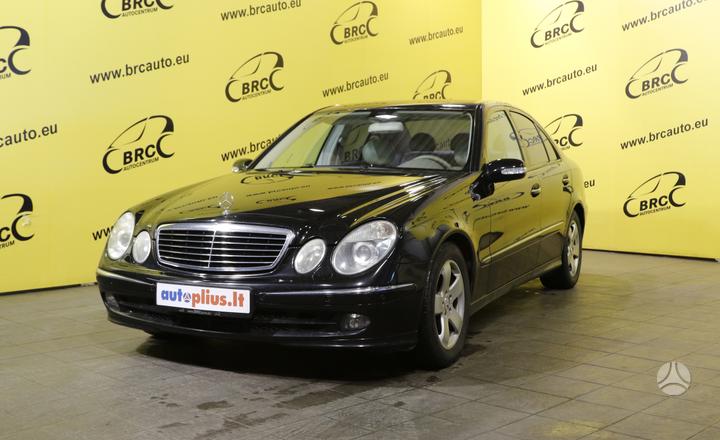 Mercedes-Benz E klasė
Watch review
Mercedes-Benz E klasė (2002 - 2009)
E klasės Mercedes-Benz - galios, prabangos ir elegancijos kokteilis. Tai automobilis, galintis ilgoje kelionėje atpalaiduoti ne tik vairuotoją, bet ir keleivius. E klasė siūlo ir galingų variklių gamą. Peržiūrėkite E klasės Mercedes-Benz apžvalgą ir sužinokite, į ką reikėtų atkreipti dėmesį perkant tokį automobilį.