BMW 328, 2.0 l., saloon / sedan
Similar ads
Ad is not active!
Gaukite paskolos pasiūlymą »
Date of manufacture
2013-01
Engine
2000 cm³, 244 HP (180kW)
Driven wheels
Rear wheel drive (RWD)
Steering wheel
Left hand drive (LHD)
Akcija!

7% palūkanos visiems
Suma nuo 1 000 iki 25 000 €
Nereikia įkeisti automobilio
Nereikia pradinio įnašo ir KASKO
Atsakymas per 1 minutę
12

mėn

24

mėn

36

mėn

48

mėn

60

mėn

72

mėn

84

mėn
Pavyzdžiui, skolinantis 5000 Eur, kai sudaroma 72 mėn. sutartis, fiksuota metinė palūkanų norma - 7%, mėnesinis administravimo mokestis – 7 Eur, sutarties sudarymo mokestis – 7% (finansuojamas sutarties sudarymo dieną ir grąžinamas lygiomis dalimis per visą sutarties galiojimo laikotarpį), mėnesio įmoka – 97,11 Eur, bendra sumokama suma – 6991,64 Eur, bendra vartojimo kredito kainos metinė norma – 12,41%.
Features / equipment
Security
Central locking
Immobilizer
Audio/video equipment
CD player
AUX input
Original audio system
DVD player
USB input
Handsfree kit
Exterior
Light alloy rims
Metallic paint
Set of winter tyres
Fog lights
Electronics
Electric mirrors
In-car mobile phone
Electric windows
Automatic headlamps
Outside temperature sensor
Electrically adjustable steering wheel
Rainfall sensor
Heated mirrors
Cruise control
Interior
Tinted windows
Leather seats
Vairo stiprintuvas
Electric seats
Electric seats with memory
Other features
Not exploited in Lithuania
Service book
Catalytic converter
Video review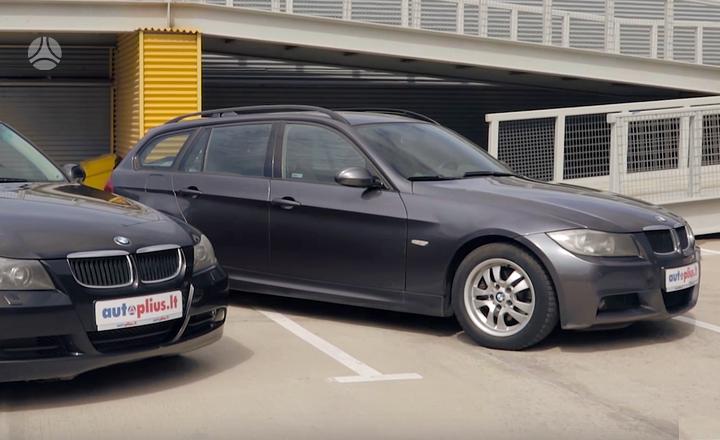 BMW 3 serija E90
Watch review
BMW 3 serija E90 (2005 - 2013)
BMW 3 serija vairuotojus vilioja dėl prabangaus prekinio ženklo, kokybiškų medžiagų bei dėl sportiško charakterio. Tai - atletiškiausias vokiškosios trijulės automobilis, suderinantis patogumą su sportiškumu. Peržiūrėkite BMW 3 serijos (E90) apžvalgą ir sužinokite, į ką reikėtų atkreipti dėmesį renkantis tokį automobilį.